CLICK HERE TO DOWNLOAD A PRINTABLE VERSION OF THIS DOCUMENT
Most workplaces require foot protection by wearing appropriate safety footwear. Conduct a hazard assessment of the workplace to prevent foot, ankle and lower leg injuries. It's important to consider the requirements of a particular application when choosing a safety shoe or boot material and as it relates to the hazards and protection.
STEP 1: Identify Hazards
STEP 2: Choose The Fabric
STEP 3: Identify Level Of Protection
STEP 4: Training
ARE YOUR WORKER'S WEARING THE CORRECT FOOTWEAR PPE?
STEP 1: Identify Hazards
Hazards to consider when deciding on the appropriate footwear PPE:
·         Slippery, oily, wet surfaces
·         Chemicals, cement, fuel, splashes and dangerous substance 
·         Cold and winter weather exposure
·         Nails, screws, handling materials and equipment
·         Working with and handling heavy objects and objects at various height levels
·         Specific equipment usage such as power tool, knives and chainsaws
·         Exposure to electrical currents 
HINT: When recruiting or dispatching a worker to the worksite, identify the precise safety footwear required to ensure they come prepared to work safely and be productive.
STEP 2: Choose The Fabric
Added footwear attributes:
Oil/slip/abrasion-resistant
Cushioned soles for shock absorption and support
Waterproof and cold weather-resistant – leather, suede and rubber
Less aggressive outsoles to prevent tripping when working on steel grates
Lightweight for climbing ladders, extended walking and need for agility
STEP 3: Identify Level Of Protection

CSA Group categorizes the levels of protection based on hazards against which they protect. Here's a list of the different categories CSA recognizes: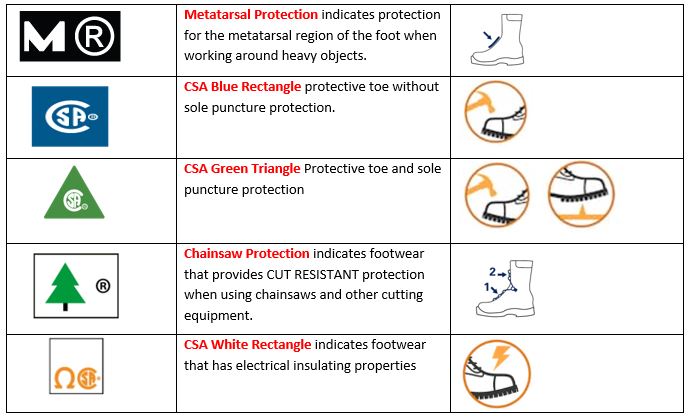 STEP 4: Training
Canadian standards also stress the employer's responsibility to give relevant training to each worker who will use PPE. This training should cover when to wear specific types of PPE, how to properly use it, and what the limitations are. Click here to learn more about and understand the causes of slips, trips and falls.
Blog Written by:
Carla Villalta
ABL's Occupational Wellness Manager
---
ABL is a staffing agency specializing in filling general labour temporary jobs, including packaging jobs and warehouse jobs. Contact us today to find the right staff for your needs!
You might also like: