In the job market of today, candidates have a wide selection of opportunities to choose from. So, keeping this in mind, what factors make them pick one position over another?
This spring, ABL conducted a survey of over 130 assignment employees to understand the deciding factors that determine whether an employee would accept or stay at a position. With tightening employee markets across all areas, it is imperative that companies understand how their positions stack up against other opportunities available in the market, and what they can do to make their jobs more attractive to today's employees.
We've uncovered some of the main job characteristics that attract candidates to a position and make them want to stay with an employer.
THE TOP 5 JOB CHARACTERISTICS THAT ATTRACT AND RETAIN EMPLOYEES
94% said: "Friendly and Supportive Supervisors"
93% said: "Positive Work Environment"
90% said: "Steady or Predictable Hours"
89% said: "Competitive Pay Rate"
88% said: "Training and Skill Enhancement Opportunities"
---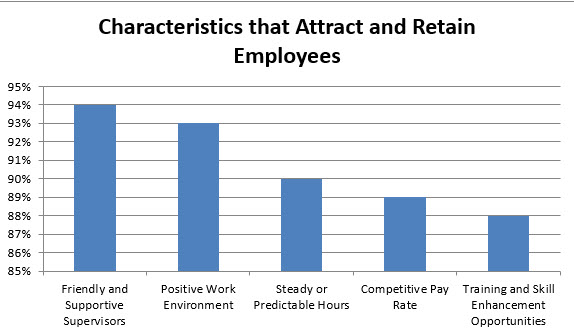 Now think about your company: do you offer any of the above to your employees? How do you stack up against the competition?
On the flipside, the top characteristics that respondents found off-putting were:
Working overnight
Lifting over 50 pounds
Not accessible by public transit
Repetitive lifting
No chance for overtime
WHAT DO THESE RESULTS MEAN FOR YOUR COMPANY?
While it's great to have this information, you might be wondering how you can use it to your advantage. There are many changes you can make to better attract and retain talent—and some won't even cost you anything. Stay tuned for our next post in the series where we will highlight solutions you can implement based on these research findings!
You can also check out the full report with all the findings here.