"Building infrastructure for the future"; "bigger is better"; "running your business by yourself"… these all seem like excellent ideas. But as you know, some of the most successful businesses in the world do a great deal of outsourcing in all aspects of their businesses: It allows them to focus on what they are best at, and allows them to benefit from the experience of leaders in other industries to help them get to where they need to be.

"Just in time delivery" is a well known term within the temporary staffing industry. As you know, depending on the time of year, you have certain productivity levels you need to reach: You could have a month where you need as many "hands on deck" as possible. Then at other times, you feel you could almost run the facility by yourself.
This is where the "base line stafffing model" works in your favour. You will direct-hire the baseline number of employees you need to meet your minimum year-round staffing levels. Then you'll utilize a reputable, experienced staffing agency like ABL Employment to plump up your temporary or seasonal peaks. This allows you to save money during the "valley areas" (or "slow times"), and only pay for extra staff when you need them.

For this relationship to be successful, you need to have a really "big-picture thinking" staffing partner: one that will analyse and plan out your staffing needs in order to devise a cost-effective staffing plan to attract and retain the contingency staff you'll need in the busy times.

Here's an illustration of how the "base line staffing model" benefits our clients: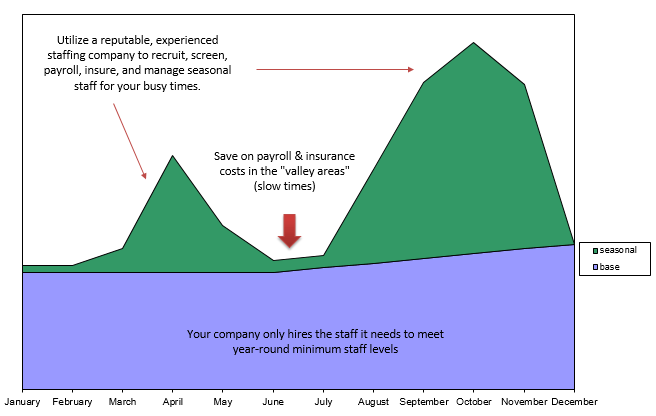 So what is the "Opportunity Cost" of doing your own hiring versus using a staffing agency?
The screening and onboarding process is a very delicate and intricate process, and having a staffing partner who has been doing it successfully for 18+ years is a big asset to your team.
Based on production or distribution peaks, you will need to hire more people during certain parts of the year, and lay off during others. You can outsource those time-consuming administrative tasks to a staffing agency to manage on your behalf.
Spending money on creating and managing job advertisements can get expensive, and processing the responses to those ads can be time-consuming if you do not have the systems or manpower in place to do it. Don't let your competitor snap up your perfect applicant before you've even reviewed their resume.
Identifying recruitment and employment market trends in order to access untapped pools of qualified candidates can be costly & time-consuming, especially with the unemployment rates plummeting across many regions. Candidates are "here today, gone tomorrow", and you simply don't have time to experiment with your attraction and retention strategies: you will save time and aggrevation by hiring an expert in these techniques.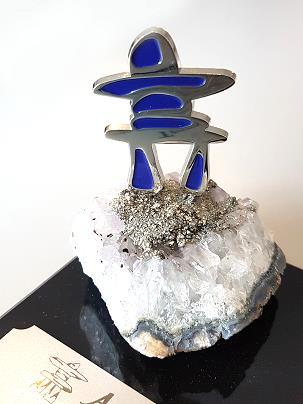 You may ask…"What if we are using your service and we want to hire on a temp-worker full time?" Well that's no issue at all: we have various options that will facilitate this request.
We always want A Better Life for our employees here at ABL Employment, and we encourage you to check out the winner of our "A Better Life" Award by clicking this link: Tracy's Story with ABL Employment . 
 If you have any questions about how ABL Employment can help you design a staffing plan to meet your seasonal peak demands, please contact our business development manager, Jeff Aran, or any of our ABL Office locations, where a team member will be happy to assist you.
Written by: Alexander Borsos
ABL Employment