Vacations or time away from work and daily activities give you the ability to unwind and wind-out. Taking FREE time for yourself or with your family is good for your mental and physical health, as you come back more productive and effective! It's a win-win.

Here are our free staycation ideas to give you all the great wellbeing benefits without stressing your budget or time constraints.
1. LOOK UP FREE PARKS
Search for free provincial parks, local parks, beaches, and waterparks to get all the benefits of fresh air, sun, and relaxing time. And don't forget to print off free Road Trip Bingo cards to make the car travel more fun!
2. HIT THE TRAILS
Pack a picnic and go hiking, biking, fishing, or walking on trails for the day. Search up a free hiking scavenger hunt app or print one ahead of time to have even more fun!
3. ATTEND A LOCAL ARTS AND CULTURE FESTIVAL
Bring a blanket and unwind as you listen to the music and enjoy a cultural day. You can plan a day-vacay by packing a carry-on luggage with wheels with everything you need for the day.
Explore the many world-class museums and nature reserve tours that have been curated online. You'll be able to visit places like the the Vancouver Aquarium, South African Safari Parks, the British Museum in London, the Van Gogh Museum in Amsterdam etc. Try doing a new arts-n-crafts project together as a family: there are tons of Youtube videos available to get you inspired to create a wonderful family keepsake together. This is even more fun if done outside, where you can get messy together in the sunshine.
4. CAMP IN YOUR GARDEN
Set up a tent or trailer, pack your food and spend the day or weekend outdoors without the stress of packing your car. If you don't have a backyard pool, you can buy an inexpensive blow-up pool to soak and splash in on those hot summer days! Don't forget to sing campfire songs and chase fireflies.
5. STAY WITH FRIENDS OR FAMILY
Stay with family and friends at their cottage, trailer, or even their home for a weekend.
During Covid Times: As more people get vaccinated, gathering outdoors together (while still maintaining physical distancing and good hand hygiene) becomes safer. Check your local public health website for guidelines in your area. With nicer weather coming, planning a camp-out in Grandma's garden (See point number 4) could be a nice getaway for everyone, and bring much needed smiles to young and old alike.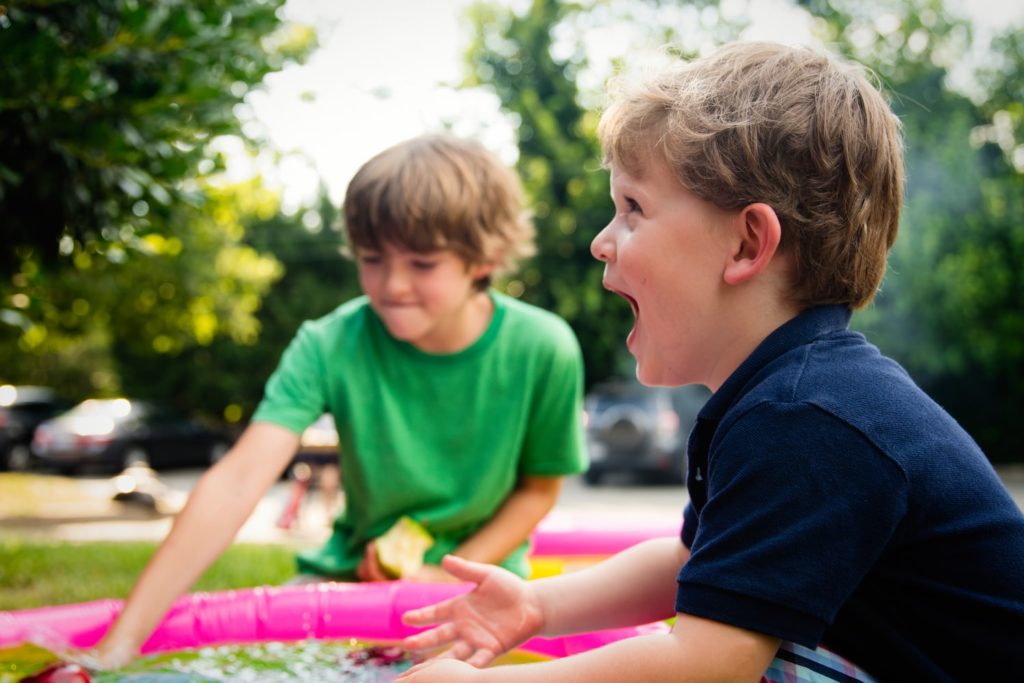 No matter which staycation you choose, here are a few more tips to get the most out of your time off:
PUT THE WORK PHONE AWAY
If you want to feel like you're on vacation, you have to act like you're on vacation. Try to minimize work-world interactions and review emails and listen to voice messages every once in a while, but won't respond unless something is a real panic.
CHECK OUT THE LIBRARY
Go to your local library as they are a great source for free entertainment as they usually have free or discounted passes to local museums, DVD's, activities for children, movie nights and local events.
SWITCH INTO HOLIDAY MODE
The key to a successful staycation comes down to your outlook: you have to be able to mentally switch into holiday mode, even if you're in familiar surroundings. Your STAY-VACAY offers the same wellbeing, relaxing and revitalizing benefits as a travel holiday—and for a fraction of the cost. Not having to pack for a travel holiday and stressing your budget alone can be stress-relieving.
PLAN YOUR BUDGET
ABL's VP of Finance suggests that if you do want to spend a little more on a vacation, you may need to plan ahead. You can definitely try to put your weekly vacation pay or just putting a set amount $50 a month, etc. aside in a "vacation" account, and forget about it! Then in a few months go back to it.
Banks even have ASP (Auto Savings Plans), where they can automatically move the money out of your main account into a savings account.